Happy New Year Everyone!
I suppose most of you are in your home countries, am I right? That was always the case for me.. However this year I decided to stay here in Denmark. Why? Well, I have my last project to hand in on the 7th of January and I wanted to stay and focus just on that. Nevertheless, I also wanted to experience Danish Christmas spirit! :)
Christmas Calendar Candle
Today I am going to introduce you a bit closer to the Danish Christmas Traditions ;) But in exchange I would like to know what are your Christmas Traditions in your home countries? :)
In Denmark christmas starts in the beginning of December, where the families are taking part in count-down to Christmas Eve, by partly lightening up every day the Christmas Calendar Candle.
In most homes Christmas starts with lightening Christmas tree candles, where the family dance around the Christmas tree. I know! Sounds funny right? They hold each others hands and walk around the tree, singing the Christmas Carols and hymns. We do not have this tradition, that is why it is surprising for me, but HEY! I would like to try that and I think it really connects the family together:)
Of course, there are also Christmas gifts under the Christmas tree, and the same as in Poland, they are distributed on the 24th of December. Just after the Christmas Dinner. And trust me - looking for Christmas gifts is just crazy in Denmark! It all starts up in the beginning of December when you meet mass of people with full bags of presents on the beautifully decorated with fir garlands and lights Aalborg's streets.
You are probably thinking what is served for dinner? Well, I need to disappoint here some polish readers (where we have 12 traditional dishes) but in Denmark it is usually roast goose, duck or pork with sour-sweet red cabbage and carmelised potatoes. This year I was eating it on the second Christmas Day at my friends house in Kongerslev (20 km away from Aalborg)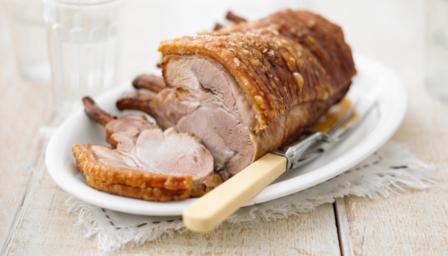 roast pork in crunchy crackling - love it! - It is often served in our School's canteen, you need to try it! :)
Ris a'la mande
On the dessert, there is a tradition in Denmark to serve a delicious Christmas rice pudding, its cold with a warm cherry sauce. Yummy, Really! Ris a'la mande is mixed with small pieces of almonds, however it is very popular to put the whole almond inside and the person who is going to find it is going to get a Christmas gift, usually marzipan package :)
Summing everything up, I had a very good Christmas Time spent together with my beloved man, my parents who came to visit and my favourite danish-polish couple of friends who are very close to me from the beginning of my journey in Denmark. Let me know how did you spent your holidays?! :)
For me, Christmas is all about spending time with your family, what do we do then? Play the games!:)
Visiting my friends in Kongerslev (Jola, Klaus - everything was amazing.. :) )